Just the other day we heard yet another golfer say, "Gee I wish there was one place I could go to get a grip on golf's rules and how to handle the most common rulings." We sent her here. >>
For Starters
Whether you're new to the game or have loved it for years, golf can be a remarkable tool for business. You don't have to be a great player to enjoy a social round or spend the day with a client or associate on the golf course, but it helps to know something about the game and be confident in your approach to it. Take it from 27-time LPGA Tour champion and KPMG Women's PGA Clinics CEO Jane Blalock, who has played in thousands of pro-am events and led hundreds of clinics, golf opens doors and fosters lasting relationships.
Blalock keeps you in the game with 9 ways to mix golf and business:
1) Learn the language and etiquette of golf.
2) Bring up golf during informal discussions – try a topic from FORE! Fridays.
3) Keep a putter in your office (or behind you in Zoom!) as a conversation starter.
4) Go out and play by yourself – get paired with and meet new people.
5) Enter a charity golf tournament with clients and/or co-workers.
6) Start an annual employee golf outing or host monthly putting contests at work.
7) Join a golf league with a client or co-worker.
8) Make time for socializing at the 19th hole after a round with clients.
9) Invite a client to spend the day with you at a KPMG Women's PGA Clinic!
Bottom Line: Keep your game sharp and your business acumen sharper by routinely engaging in golf-related conversations and outings with clients, co-workers and associates. Golf creates connections and bonds that can last a lifetime.
This is Issue No. 52!
We introduced FORE! Fridays almost one year ago in the midst of a pandemic to keep women in the golf conversation. We remain committed to helping women look good, play better and know more when it comes to golf, and we thank you sincerely for your readership this past year.
As we move into year two, please consider sharing FORE! Fridays with women getting into golf, already into golf and/or hopelessly devoted to golf. Ask your friends to subscribe. It helps our coaches, it helps our staff, it helps our program to have your continued support and to engage new readers. From all of us at KPMG Women's PGA Clinics – a 100% women-owned and women-operated business – we thank you so much! Refer a friend now >>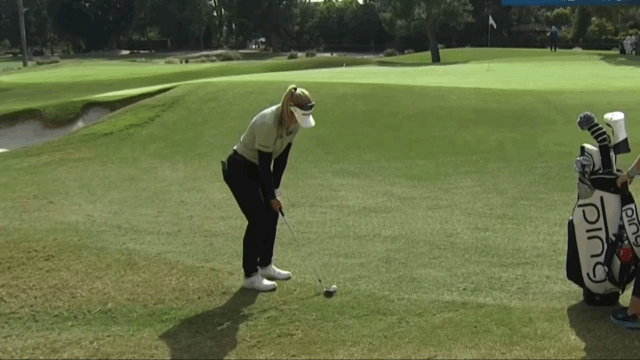 Call the Shot
Be one of the first 5 to name this LPGA Tour player who chipped in for birdie and went on to pick up her 10th win last weekend, the most of any Canadian professional golfer – male or female – in the game's history. If you get it right on your first attempt, we'll send you a prize from the KPMG Women's PGA Clinics swag closet! If you've won before, play for pride or just to say hi! Reply to this e-mail with your call.
The Cradle at Pinehurst, one of the most popular 9-hole courses in America, was designed in 2017 by Gil Hanse. Greens fees are $50 and kids under 17 play for free with a paying adult.
On Course
Notables and key takeaways from the world of golf.
>> Are short courses like par 3's and 9-hole executive tracks the answer to getting more women into golf? While they may be faster to play, and in some cases "easier," Golf Course Architect Kari Haug thinks not. More on what existing full-size courses can do to make golf more palatable for women (who should not automatically be considered "shorter" hitters BTW!!) >>
>> When standing on the tee and saying, "Rain, rain, go away" fails to elicit the proper response, here are 3 tips for playing your best golf in the rain. Not surprisingly, being prepared for it is #1, so carry an umbrella, rain gear and rain gloves in your bag. #2 is use a shorter, more compact swing. And #3 is adjust to the course – wet conditions mean softer fairways and slower greens. So eschew your typical fair weather selections and choose your clubs to match the conditions.
>> ICAAY (In Case Anyone Asks You): Bosnia has two 9-hole golf courses and 123 active golfers, 30 of whom are women (24%). Percentage-wise, more women in Bosnia play golf than pretty much anywhere else. Of the 80 million golfers world-wide, 19% are women, according to the National Golf Foundation. Be like Bosnia, get a new woman into the game today!
Canada's Brooke Henderson nipped Jessica Korda by one stroke to win the Hugel-Air Premia LA Open at Wilshire Country Club.
On Tour
Pro tour tidbits for the virtual water cooler.
LPGA Tour
Aussie tandem Marc Leishman and Cameron Smith won the PGA TOUR's Zurich Classic at TPC Louisiana in New Orleans last weekend and now have matching belts.
PGA Tour
Marc Leishman and Cameron Smith teamed up to top all others in the 2021 Zurich Classic with steady play, the perfect balancing act and a thrilling finish. Transitioned to a team event in 2017, the Zurich was canceled last year due to COVID, but made a dramatic come back this year, requiring a sudden death playoff to determine the champs as Leishman and Smith edged gritty South Africans Louis Oosthuizen and Charl Schwartzel on the first extra hole in alternate shot.
Leishman and Smith earned their 6th and 3rd Tour wins, respectively, and this is Smith's second Zurich title – he won the inaugural team event with Jonas Blixt of Sweden. The winning pair split $2,138,600 and donned the championship belts that will surely get them WWF ringside seats (Smith's mullet also helps). Here's how the rest of the teams fared in the purse breakdown.
The PGA TOUR sets up shop at Innisbrook Resort's Copperhead this weekend for the Valspar Championship, an event Paul Casey won in 2018 and again in 2019. He's had a year to think about it with COVID stalling his mojo in 2020 – can he make it three in a row in Palm Harbor? More >>
Coming Up – keep your eyes peeled for these golf happenings.
This Weekend:
LPGA Tour – Singapore
Watch it on TV: All times ET.
Fri Apr 30: 9:30pm-2:30am, Golf Channel
Sat May 1: 9:30pm-2:30am, Golf Channel
Symetra Tour – Garden City, KS
PGA Tour – Palm Harbor, FL
Watch it on TV: All times ET.
Fri Apr 30: 2-6pm, Golf Channel
Sat May 1: 1-3pm, Golf Channel | 3-6pm, CBS
Sun May 2: 1-3pm, Golf Channel | 3-6pm, CBS
Stream it on PGA TOUR Live
From Our PGA/LPGA Coaches
Judging speed is one of the most challenging aspects of putting, especially when greens and conditions vary from course to course. LPGA Certified Coach Cindy Miller offers a simple formula to ensure the length of your putting stroke matches the distance you need to cover – no matter where you're playing. Check it out!
Watch Distance Control in Putting >>https://www.youtube.com/embed/7Uf6BCV7DYs?wmode=opaque
PGA Certified Coach Jennifer Bermingham, who was recently named to the 2021-2022 PGA LEAD Class, provides instruction at a KPMG Women's PGA Clinic.
Elbow Bumps
>>  Established in 2016, PGA LEAD is the PGA of America's leadership development program, which was created to identify, mentor and progress PGA Members from diverse backgrounds into volunteer leadership positions within Association governance.  Through PGA LEAD, PGA Members are prepared to ascend into volunteer leadership positions within the Association at the Chapter, Section and National levels.  Congratulations to three of our PGA Certified Coaches who have been selected for the 2021-2022 PGA LEAD Class:  Jennifer Bermingham, Tiana Jones and Sara Lewallen.
>> PGA Certified Coach Gabby Weiss, who moved to the Pinehurst area when she was 16, made history at the club this week when she became the first female Head Golf Professional at Pinehurst Country Club. Way to blaze a trail, Gabby!
>> Whether you walk, run, swim, golf, dance, or spin – your actions can support the forward movement of research to end breast cancer. Move with Love aims to get the world moving on May 15 with a fundraising goal of $150,000 in support of innovative, ground-breaking breast cancer research. It's time to put that awesome swing of yours to good use and join a new community for a great cause. Click here to learn moreabout registering yourself or a whole team of movers and shakers just like you – enter the code LOVEGOLF at registration to save 10% and let 'em know we sent ya.
19th Hole
"Do your best, one shot at a time and then move on. Remember, golf is just a game."
– Nancy Lopez
Looking to rock your game like a hurricane? Aim for a 19th hole incentive known as the Passion Fruit Hurricane – a delicious mixture of light and dark rums and passion fruit juice so powerful you'll want it to sideways rain so you can stay inside, sit back and order another.
Passion Fruit Hurricane
Makes a Pitcher of 6 Drinks
2 Cups Passion Fruit Juice
1 Cup Sugar
¾ Cup Lime Juice
¾ Cup Light Rum
¾ Cup Dark Rum
3 T Grenadine Syrup
Orange, Starfruit Slices and Maraschino Cherries for garnish
In a pitcher combine juices, sugar and rums. Stir until sugar is dissolved. Pour into iced filled highball or hurricane glasses. Garnish with fruit slices and a cherry.
Our Sponsors
The KPMG Women's PGA Clinics are made possible with the support of our national sponsors and marketing partners. Thank you so much for your support! For more information about the KPMG Women's PGA Clinics national, regional and individual market table sponsorship opportunities, please contact Executive Director Melanie Bedrosian at mbedrosian@jbcgolf.com.
The Clinics are title sponsored by the KPMG Women's PGA Championship, one of five major championships on the LPGA Tour. Sei Young Kim of South Korea won the 2020 championship. The next KPMG Women's PGA Championship will be held June 22-27, 2021 at Atlanta Athletic Club in Johns Creek, Ga.
Book Club
Selections from the worlds of golf and business, easier to read than most greens.
Golf Fundamentals:
Orthodoxy of Style
Do you wonder what makes a swing consistently accurate? Dunn demystifies the mechanical laws of the golf swing and dynamic laws of the golf stroke. He also provides ample insight on golf psychology. In the section on his Orthodoxy of Style, Dunn breaks down each simple and scientific stroke to ease comprehension and mastery. With its concise direction and visual depictions, Dunn's classic Golf Fundamentals has inspired much of modern golf's techniques, and its tips remain applicable today. Recommended by Jane Blalock, 27-time Tour champion.
Author
Seymour Dunn, Scottish professional golfer and golf course designer